Designed by
Chris Lawson and Mark Derrick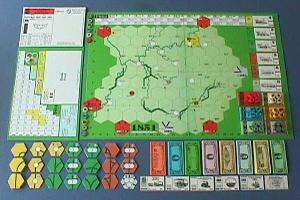 1851 is a new 18xx game set in Kentucky and Tennessee, it is designed for 3 to 5 players and takes about 3 hours to play. It has such features as
The Red-to-Red bonus routes encourage track to be built in a more realistic manner.
The six Corporations are partially funded, they receive capital as shares are sold.
Corporations can buy and sell their own stock during an Operating Round.
Good to introduce new players to the 18xx genre and for the expericend player it offers a game which isn't just an 1830 variant.
For more detail, see the Summary by Chris Lawson

The gamekit is now only available as a Standard Edition. The Platinum Edition has sold out.

1851 Standard Edition

As with all my earlier 18xx gamekits (1841, 1876 and 1899) the production values are high. The map and stock market are full colour while the components are printed on coloured cardstock. 1851 is a complete game and requires no additional components, it will come boxed and contains a quick start rulesheet. Several new design features have been incorporated into the components to help ease game play (such as the dividend payout track).

1851 Platinum Edition

I did offer a special limited print-run edition of 1851. It was hand made and includes mounted boards, wooden tokens, laminated and pre cut components (i.e. no extra work required, a ready to play game, not a gamekit). Thermally bonded matt laminate was used to encase all the components (shares, charters, tiles and trains), the final result looks like they are made out of plastic instead of card. The box featured colour artwork and was signed and numbered dedicated to the owner. No more Platinum Editions of 1851 will be made or offered again.

Please note that the gamekits require the components to be cut out.
1851 Standard Edition Gamekit,
Cost (includes Post and Packing)
UK & Europe (Air Mail)
£12
US (Air Mail)
$25
US (Surface Mail)
$20
This page is maintained by Chris Lawson (chris.lawson@virgin.net) Last Updated 30th July 2000